Volunteer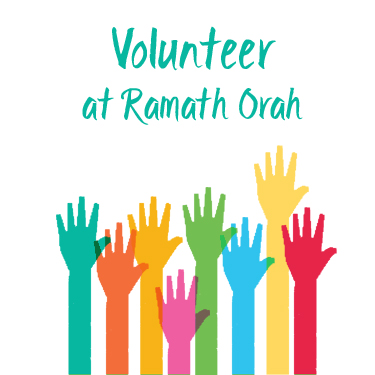 There are so many ways to be involved at Ramath Orah, including volunteer opportunities. Give back to the community by volunteering with the Ramath Orah Team of Chesed, or helping set up kiddush on Shabbat. There are many ways to become involved and contribute to the community.
Check out the list below or the descriptions at the bottom of the page to learn more or offer your own skills to help in other ways.
Volunteer Opportunities
The following is a list of current volunteer opportunities at the shul. Please let us know if you have other skills or interests with which you would like to participate

Committees
Programming Committee
The General Programming committee is seeking volunteers to assist with creating and implementing community-building, cultural, and educational programming at CRO.

Membership/Welcoming Committee
The Membership Committee seeks to create a welcoming environment both for existing members and "not yet" members. Please help us plan activities and open your home to people who come to our shul.
Children's Programming Committee
The Children's Programming Committee plans children's events throughout the year. They are looking for individuals to join the committee and to volunteer at events. Learn more about current children's programming.
Facilities
If you have a special interest or skill in helping to maintain or improve the beauty and utility of our building, please step up!
Finance
Please join if you have a special interest or or knowledge in the area of finance, budgeting or accounting.
Fundraising and Annual Dinner Committees
Help plan campaigns or events to help our shul thrive
Volunteer opportunities
Kiddush Set-Up Volunteer
Through a rotation of volunteers, each individual sets up Kiddush about once every four months. Instructions and "training" to be provided.
Security
CSS provides security for CRO on Shabbat mornings and Holidays. After undergoing training, volunteers are put on a rotation to act as security for CRO. All members should see the security of our shul as their responsibility.
Hosting Shabbat Meals
CRO's "MetU" initiative aims to match up individuals looking for Shabbat hospitality with individuals and families willing to host. Volunteers will be added to a mailing list where notifications of hosting opportunities will be sent.
Chulent Cooking
Volunteers are placed on a rotation to cook the Shabbat chulent. Volunteers are provided with the shul's chulent recipe or may use their own with ingredients provided to them. Making the chulent takes approximately 45 minutes- 1 hour on Friday afternoons. Click here to view pictures of volunteers making chulent.

Providing Meals for Others in the Community
Volunteers are alerted to opportunities to provide meals for individuals and families in need--such as those who just had babies or who are ill.
Thu, February 2 2023
11 Shevat 5783
Today's Calendar
---
Tomorrow's Calendar
Shacharit

: 7:00am
Candle Lighting

: 4:57pm
Mincha/Maariv

: 5:05pm
---
Shacharit Minyan sign up List
Times for weekday shacharit are posted in the schedule (left hand column); usually Sundays at 8 am and Mon-Fri 7 am. Please sign up for the weekday minyan--it helps us plan.
Today's Zmanim
Alot Hashachar
5:42am
Earliest Tallit
6:13am
Netz (Sunrise)
7:05am
Latest Shema
9:37am
Zman Tefillah
10:28am
Chatzot (Midday)
12:10pm
Mincha Gedola
12:35pm
Mincha Ketana
3:08pm
Plag HaMincha
4:11pm
Shkiah (Sunset)
5:14pm
Tzeit Hakochavim
5:57pm
More >>
Office Hours
Monday–Friday 9:00am–2:00pm.
Email: info@ramathorah.org
Thu, February 2 2023 11 Shevat 5783