Volunteer
Volunteer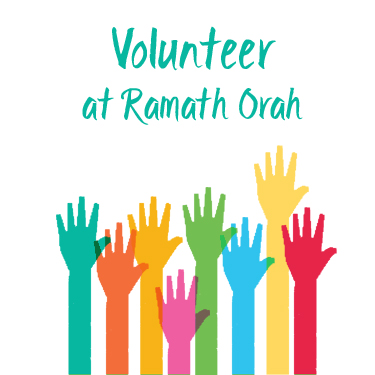 There are so many ways to be involved at Ramath Orah, including volunteer opportunities. Give back to the community by volunteering with the Ramath Orah Team of Chesed, or helping set up kiddush on Shabbat. There are many ways to become involved and contribute to the community.
Check out the list below to learn more.
Volunteer Opportunities
The following is a list of current volunteer opportunities at the shul.

Committees
General Programming Committee
The General Programming committee is seeking volunteers to assist with creating and implementing community-building, cultural, and educational programming at CRO.

Membership Committee
The Membership Committee seeks to create a welcoming environment to attract and retain members at CRO. The bulk of our activities take place during fall through winter, during the annual membership drive.

Children's Programming Committee
The Children's Programming Committee plans children's events throughout the year. They are looking for individuals to join the committee and to volunteer at events. Learn more about current children's programming.

Kiddush Set-Up Volunteer
Through a rotation of volunteers, each individual sets up Kiddush about once every four months. Instructions on what do set up will be provided.

Facilities management
From the mundane to the sacred, CRO needs assistance in defending and protecting our aging shul. Click here to see pictures of a recent renovation.

Hosting Shabbat Meals
CRO's "MetU" initiative aims to match up individuals looking for Shabbat hospitality with individuals and families willing to host. Volunteers will be added to a mailing list where notifications of hosting opportunities will be sent.

Security
CSS provides security for CRO on Shabbat mornings and Holidays. After undergoing training, volunteers are put on a rotation to act as security for CRO.

Cooking Chulent
Volunteers are placed on a rotation to cook the Shabbat chulent. Volunteers are provided with the shul's chulent recipe. Making the chulenttakes approximately 45 minutes- 1 hour on Friday afternoons. Click here to view pictures of volunteers making chulent.

Bikur Cholim Lunch 'n Learn
The group does a pot luck lunch at someone's apartment, Rabbi Grussgott teaches some parsha, and the group splits up to go visit elderly members.

Weekly Bikur Cholim
Volunteers visit our long-time homebound elderly members on Shabbat after kiddush. The opportunity for this mitzvah is available every week. You decide on what weeks you would like to visit.

Providing Meals for Others in the Community
Volunteers are alerted to opportunities to provide meals for individuals and families in need--such as those who just had newborns, who are sick or recently underwent surgery.

ROC House
CRO is home to spirited concerts. The ROC House needs someone who knows how to work our sound system to help with any concert events. Additionally, the concerts need volunteers to collect tickets and sell refreshments or CDs at the concerts.
Thu, November 14 2019
16 Cheshvan 5780
Today's Calendar
---
Tomorrow's Calendar
Shacharit

: 7:00a
Candle Lighting

: 4:19p
Mincha/Maariv

: 4:25p
---
Update this content.
Thu, November 14 2019 16 Cheshvan 5780